EPILOGUE
Whole Gupta Haveli is decorated with lights and flowers, making it look like a new bride. People are rushing here and there giving instructions to each other. The whole Haveli is buzzing with Chaos as if some Prime Minister is going to visit them. The smile on every member's face is radiyating as if sum itself has come down on the Earth. And why not? After all it is the marriage eve of their beloved daughter Khushi.
"I can't believe that my gudiya- my Khushi is going to get married today. It feels as if yesterday only she was sitting in my lap asking me to buy her a Barbie doll," said daarji with moist eyes but a small smile tugging his lips.
"Haa yaara, but that's the law of nature. As soon as daughter gets young we elders start worrying for their marriage and when the time comes it feels that why they have grown so much to leave there own house," said Teji.
"Sahi kaha… Vidambana dekho, jis angne mei pali badhi hai jaha sukh dukh jiye hai, usi babul kei angne ko ek din chod kei chali jaati hai betiya kisi aur kei yaha phool khilane." ("Yes, you are so right. See the travesty of life, the house in which they have grown up, where they have seen good and bad phase of their life, they have to leave the same house to light someone else house.")
"Hmm… Par kya kare yei to jeevan ka dastoor hai." ("Yes, but what to do? It is the consuetude of life.")
"Shashiji, Have you check on the entrance? Barat will come anytime?" asked Garima worriedly.
"Yes Garimaji, you don't worry- I have doble check it."
"Oh! Thank god. But what about other things like vamala and…"
"Ofo! Garima, Take a deep breath. It is just the marriage of Khushi that too to our very own Arnav puttar. Then why are you so worked up?" asked Rupa coming their while adjusting her sari a bit in hurry.
"Bhabhi, don't ask her? Don't know why she is getting so tensed?" said Shashi.
"You will not understand ji because you are not a mother naa."
"So what? I am her father."
Before their argument on who is who can extend any long they saw Vishwas coming there huffing and puffing and said "Barat has come."
And they all dispersed to welcome the groom.
"OMG! Khushi barat has come. I am going downstairs," said Diya coming inside the room in a hurry.
"Oyee… Careful… What is this Diya? You know you should not run and jump like this but you…"
"Sorry Khushi… But what to do? Today is my best-friend-cum-soul-sister's wedding and how much may I try, I just can't keep my excitement in check," said Diya winking and hugging her from back.
"But still you should. Don't forget apart from yourself you are responsible for someone else too," said Khushi pointing at her six months belly making Diya blush slightly who nodded in yes caressing her baby bump.
"Moreover, Don't show off so much Diya because I know that how much you are imprecating me in your heart."
"Imprecate? And me? Why so madam?" asked Diya folding her hands on her chest.
"Because due to this wedding you have to be away from your Yash," she said winking at her making her blush and then hitting her she said "Khushi, don't try all this on me because it is going to cost you a lot. After all today is your wedding, and as far as I know Arnav then you will get many such moments with us. In fact more than any of us," said Diya.
"Don't you want to go down so that you can come back and took me down?" asked Khushi trying to hide her embarrassment.
"Someone is eager," teased Diya while Khushi just pushed her out of the room to go downstairs.
"Daddy" squealed Vihaan and jumped on his father who readily take him in his arms and asked "Did you miss me Vihu?"
"Yesh daddy… I miss you shooo much," said the little boy spreading his arms wide open and making everybody chuckle.
"Daddy too miss his Vihu," said Sumit while Vihaan came out of his arms and ran away from there seeing other children.
"That's good Sumit. So now handle your son for the rest of the wedding," said Sameera.
At this Sumit's eyes widen and he looked up first at his wife then at his son and then again at his wife and with a pleading face nodded his head in No.
"Why? What happened?" asked Sameera knowing well the plight of Sumit.
"Ugh! Nothing Sam. It is just that I remember some work."
"No problem Sameer, You can handle him along with your work. Right?"
"Sameera, why are you pulling leg of my brother?" asked Divya coming from backside along with Yash and the groom- Arnav.
"Oh! Please Divya don't take his side. From last one month he is pestering me to get pregnant again as if it is some sweet dish," said Sameera huffing.
"So, what is the big deal in it?" asked Divya.
"See who is saying this? The one who itself is on family planning currently," said Diya coming downstairs making both Divya and Vishal embarrassed.
Upon seeing his wife coming downstairs Yash went near her to support her.
"I am not a patient that you will give me support everytime," said Diya irritatingly jerking his hand.
"Another mood swing… babaji why me? If I haven't come to her then also she will have taunt me and now when I did then also she is taunting me," murmur Yash on to himself feeling pity on his own plight.
"Let me tell you Arnav that don't make your wife pregnant otherwise you will be a gone case," said Yash after coming back and standing beside him.
At the same time Garima come there and upon seeing all of them ganging up she face palm and then said "See, here I am getting worried and you guys are busy in gossiping? Don't forget that it is Arnav & Khushi's wedding and not your get-together."
"And Arnav dear you? What are you doing over here? Vishal dear, take him to the altar and you girls," she said pointing towards Sameera, Diya and Divya. "Go and bring your over excited friend," saying this Garima left from there to check with Shashi.
"Khushi, come… time has come to take you to altar so that you can bind with the one you are already united with soul," said Divya entering the room with Sameera and Diya.
"Am I looking good?" asked Khushi checking herself out in front of mirror.
"Yes baby you are looking ravishing and Arnav is going to eat you raw," said Sameera winking naughtily making the rest two giggle while Khushi just blushed tomato red.
"Shut up Sam…Oops… I mean bhabhi…. See it's been three years but still I am not able to call you bhabhi."
"What to do? Bad habits hardly go."
"I can't believe that you guys seriously waited for three years to get married," said Divya.
"All thanks to the great Arnav Singh Raizada," added Diya.
"But seriously Khushi you are too lucky, today when boy would just want to get married to his love so that he can claim her as his in front of everyone, Arnav decided against it and give you space to complete your studies and establish yourself."
"And she did," said Diya with a sweet smile.
"See here… Downstairs everyone is asking where is the bride? And here these four musketeers are gossiping. Wanna marry or not Khushi?" asked Vishal from back.
"Of course yes dumbo. Can't wait anymore," said Khushi making everybody laugh and then they all left for downstairs.
Arnav was seated on the altar which has been set up in the courtyard of Gupta Haveli when his heart beats raised making him realise that she is here. And as soon as he look upward his eyes caught her. Surrounded by her friends, she was walking down the stairs in her bridal attire looking etheral.
All he could thought at that time was "Angel- his precious angel, only HIS."
"Stop gaping at her like a despo Arnav. Soon she will going to be all yours," said Sumit in his ears as he bent down by his side, slightly winking.
At which Arnav averted his eyes and concentrate on the fire as if he is going to marry that fire and not Khushi.
Once Khushi reached down she was taken to the altar by her mother and taiji who make her stand beside Arnav who stood up for the garland ceremony.
Both of them exchange the garlands after hell lot of teasing from their friends and families they sat down for proceeding with other rituals.
As Arnav has consider Divya her sister so she came forward and did the gathbandhan after which both of them took seven vows around the sacred fire with hands-in-hands promising each other for their undying love, togetherness and prosperity.
After taking the sacred vows they regain their seats on the altar to continue with other rituals.
Arnav lifted her veil to apply vermillion in her partition when a little pinch fell on Khushi's nose symbolising that her husband will love her tremendously which brought a smile on everybody's face.
After this Sameera forwarded the platter in which the nuptial thread was placed. And Arnav took it and tied it around Khushi's neck making her as his ritually.
Seeing both of them finally married tears of happiness brimmed in every family member's eyes.
As soon as the priest pronounced them as husband and wife, they both stood up to seek the blessings of their elders with a small smile tugging on both of their lips. First they took blessings of Subhadra Raizada- Arnav's grandmother after which they took blessings from daarji followed by Teji uncle, Khushi's parents, taiji-tayaji and other elder family members.
"Well there is a twist in the tail," said Vishal making all the elders confused.
"What are you talking about Vishal?" asked daarji.
"Actually daarji we youngsters have planned a surprise for Arnav and Khushi. So come with us," saying this he took them with him and make them sit in front of the stage while Diya make Arnav and Khushi sit in the middle seats.
At the same time lights got dim and Sumit and Sameera came on stage and started dacing.
Taaron ka chamakta gehna ho…(2)
Phool ki mehekthi vaadi ho
Us ghar mein khushaali aaye
Jis ghar mein tumhaari shaadi ho
Taaron ka chamakta gehna ho
Phool ki mehekthi vaadi ho
Us ghar mein khushaali aaye
Jis ghar mein tumhaari shaadi ho
Yeh phool tumhaare zevar hai
Yeh chaand tumhaara aaina
Tum jab aise sharmaati ho
Dulhe ka dhadakta hai seena
Har aaina tumko dekhe
Tum to aisi shehzadi ho
Us ghar mein khushaali aaye
Jis ghar mein tumhaari shaadi ho
Meri behna hai phool baharon ka
Meri behna hai noor nazaron ka
Meri behna ke jaisi koi behna nahin
Bina iske kahin bhi mujhe rehna nahin
Jaise hai chaand sitaron mein
Meri behna hai ek hazaron mein
Hum jaise bhole bhaalo ki
Yeh duniya to hai dilwalo ki…(3)
Taaron ka chamakta gehna ho
Phool ki mehekthi vaadi ho
Us ghar mein khushaali aaye
Jis ghar mein tumhaari shaadi ho
Khushiyon ke melon mein baitho
Koyi gham na tumhare paas aaye
Na umar ka pehra ho tum pe
Meri dil ki dua yeh rang laaye
Rab hasta hua rakhe tum ko
Tum to hasne ki aadi ho
Us ghar mein khushaali aaye
Jis ghar mein tumhaari shaadi ho
Taaron ka chamakta gehna ho
Phool ki mehekthi vaadi ho
Us ghar mein khushaali aaye
Jis ghar mein tumhaari shaadi ho
Taaron ka chamakta gehna ho
Phool ki mehekthi vaadi ho
Us ghar mein khushaali aaye
Jis ghar mein tumhaari shaadi ho
Listening the wordings of the song tears brimmed in Khushi's eyes as she realised that words said about the girl do fit her. She is the apple of eye of her family. They can do anything and everything for her. Her happiness is their happiness and her sorrow are their sorrow. But soon she came back from her reverie when she felt a hand just above her hand and upon looking up she saw Arnav looking down at her and nodding her head in negative as if asking her not to cry on this happy occasion.
After Sumit and Sameera did their performance, Divya-Vishal came on stage and before starting their performance she said "Though I consider you as my brother Arnav veerji, but in this performance I am with Khushi's side so beware!!!"
And with that she starts dancing.
Jinke aage ji jinke pichhe ji o jinake age-pichhe ji ji
 Jinke aage ji jinke pichhe ji o jinake age-pichhe ji ji
 Kali anar ki hai meri ye behna murat pyar ki hai pyari ye behna – 2
 Dekho kabhi tum na isko satana warna padega mujhe danda uthana
 Isko rulaya to dungi mai gali ji ha gali ji kya samjhe jijaji
 Jinke age ji jinke pichhe ji o jinake age-pichhe ji ji
In the mid Diya too join her as she can't dance much so she just did few light steps and then went back to her seat along with Yash.
 Makhamal ki bistar pe isko sulana baho ke zule me isko zulana – 2
 Ruthe kabhi to ise haske manana haske na mani to makkhan lagana
 Phir bhi na mani to bulalena sali ji ye sali ji kya samjhe jijaji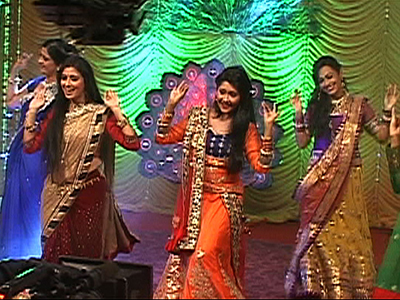 Jinke age ji jinke pichhe ji o jinake age-pichhe ji ji
 Mai unki sali hu o mera jijaji
After the heartfelt dances it was time for Khushi to bid bye to her family and step in a new family to make it as her own for eternity.
So at last after bidding a tearful bye she left for her house which she has to make a home with her love and care.
"Khushi baby I am sorry naa," said Arnav trying to pacify her heavily pregnant angry wife who is crying buckets.
"No…sob… You… sob… You scold me… sob… You don't love me anymore… sob… I am not good looking anymore naa… You must be having fun with some chick… sob… I know you better… sob…"
"OMG! Drama queen at its best," thought Arnav and then look towards his granny for some help who just shrugged her shoulder stifling her smile which is threatening to peek out.
"Khushi baby… its nothing like that. Don't you trust me?" he asked.
"No, I don't trust you and don't baby me. I am not any baby but yes I am carrying your baby. And you… sob… youu are just scolding me…"
"So what could I do baby…oops… I mean Khushi? You were walking so fast, what if you would have trip on something?"
"I am not bling to not see and trip over something," she said angrily and then added "And don't give excuses. I know you are having affair with that Riya… Chudail kahiki… sob… mumma… sob… I hate you…"
"I hate you…sob… I hate you… sob… Aaahh!"
"Khushi! Khushi what happened?"
"I think her water broke down. We have to take her to hospital immeDiyately," said Subhadra worriedly at which Arnav carried her downstairs and then they left for hospital.
After around three hours of labour pain Khushi gives birth to two their bundle of joy- a baby girl. As soon as Khushi was shifted in general ward Arnav enters inside first and saw Khushi looking towards their angel with a small smile playing on her lips. While Arnav sit beside Khushi after cautiously picking up his angel in his arms and said "She is so beautiful just like you Khushi. See, she has beautiful hazel eyes like you."
"Hmm… but I am glad that she has perfect M-shape lips, kissable just like you," she said winking making him smile.
"Uhhhh…" Diya clear her throat and then said "Guys, please don't talk all this in front of baby otherwise she too will become besharam just like you guys," saying this she enter inside the room and soon one-by-one all others too enter and took the baby in their arms while blessing her.
"I too want to take my sister in my arms," said Vihaan in his babyish voice making everyone smile.
"No baby, your sister is too small. Let her get some big then you will hold her in your arms," said Sameera.
"Baby do you want to hurt your sister?"
"Okay, but bhui what should I call her?" he asked.
"Aksa- Aksa Singh Raizada. It means blessing," said Khushi.
"Aksa… wow… nice name. Now I have two brother and two sisters," said Vihan pointing at the baby girl Ritika in Diya's hand, his baby brother Aarul in his daddy's hand and the baby boy Rehaan in Divya's hand.
Life can't be more blissful then this. They all have everything what they ever wished for- elders blessing, a loving husband and the symbol of their love completing their life just like a fairy tale.
~THE END~
P.S.: Thanks to all my readers for being with me throughout this crazy and a bit emotional journey of our beloved Arshi. Finally I am signing off with this story officially and its end will remark now the beginning of the scary and emotional journey of Arshi through GHOST OF THE HAUNTED HOUSE (Season 2).
MY STORIES ARE COPYRIGHTED AND ARE AVAILABLE ONLY FOR MY BLOG.
---
© Copyright- All Rights Reserved
---